Members - Company Signatories
Company signatory members to the agreement are Rever Offshore, Helix Well Ops, KD Marine, N-Sea, Subsea 7 and TechnipFMC.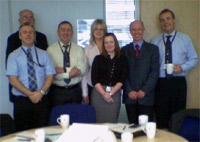 The committee of company signatories comprises managers from each company, and is supported by a paid Coordinator.
It meets periodically to consider matters relevant to the existing and future ODIA agreements, and participates in the industry ODIA  Stakeholder Group along with representatives of employers, the RMT and workforce groups.
Company Signatories - links


Members - Affiliate contractors 
Affiliates are not Signatories to the collective agreement, but are members of both
The Signatories of the Offshore Diving Industry Agreement (ODIA) are delighted to welcome Gillian Laing and David Lindsay, part of the UK Management, Boskalis to the table as an Affiliate Member of ODIA. Hamish Petersen, Chair said "We have been speaking to Boskalis for a number of months and we are pleased they have decided to join us. Both Gillian and David are already well known to the Signatories from their previous roles with Bibby and Harkand, so they fit straight in".
Gillian Laing from Boskalis UK said "We, along with our Senior Management Team, recognise the benefits for our offshore teams and ourselves in becoming members of ODIA. We are hugely positive of our involvement with ODIA. Our main driver to be involved is to ensure the same benefits for our workforce as the other Diver workforces in the UK sector, to have safe, fair and comparable terms and conditions as we work with the other ODIA signatories to act in the best interests of the offshore teams".
· the 'ODIA Stakeholder Forum' which coordinates ongoing industrial relations outwith the 3-yearly bargaining process, and
· our shared resources project, giving access to our paid Coordinator, and participation in all ODIA activities (except a vote in collective bargaining decisions, and direct participation in negotiations, although affiliate members will be informed and consulted throughout the collective bargaining process)